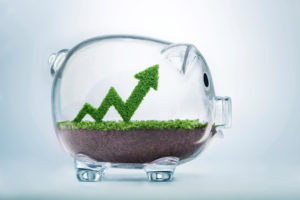 Are you earning a competitive rate of return on your cash savings?  As interest rates continue to rise, there are a number of online banks now offering interest rates that are much higher than the typical 0.1% rate at your local bank.
Here are currently a few of the top yielding accounts:
Ally Bank[1] – 1.85% for their online savings account and 2% for their 11-month no-penalty CD
Marcus by Goldman Sachs[2] – 1.85% for their online savings account
Synchrony Bank[3] – 1.85% for their online savings account
While there are some restrictions for using an online savings account, such as a limit of six transactions per month and typically no physical branch you can visit, advances in technology have made online banking easier than ever for millions of Americans.  They can be linked to your checking account, making it simple to move money in either direction within a couple of business days.
These accounts are also FDIC insured, giving you peace of mind for deposits up to $250,000 per depositor.  If you have more cash in savings than that amount, you can split your accounts among different FDIC-insured banks and/or use different ownership categories.
When considering an online bank, be sure to look at both minimum and maximum balances for their highest rate.  Some online banks not listed above also have limitations on external transfer amounts, so read the fine print before you sign up.
Is it really worth the trouble to set one of these online accounts up?  It depends on your account balance.  2% would earn interest of about $1,000 per year[4] on a $50,000 balance compared to $50 on a savings account paying 0.1%.  The higher your account balance, the more incentive there is to consider one of these higher-paying options.
Interest rates as of September 7, 2018 and are subject to change.  Verus Financial Partners has no affiliation with any of the banks listed above and lists them for informational purposes only.
[1] No minimum balance for online savings; 2% no-penalty CD for account balances of at least $25,000.
[2] $1 minimum balance.  $1,000,000 maximum balance.
[3] No minimum balance.
[4] Ignores compounding interest.