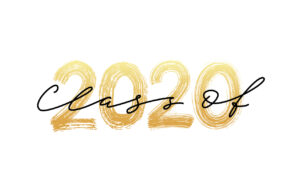 If 2020 has taught us anything it is the art of adapting to an ever changing way of life.  It has pushed most of us into forms of living and working that are uncomfortable and, in some cases, scary.  During 2020 we have mourned the loss of life around the globe but have rekindled the spirit of compassion towards each other.  One of the most profound rediscoveries during our COVID-19 quarantine has been the importance of celebrating life, kindness and the shared human condition.  It has been invigorating to see communities come together to recognize birthdays, weddings, births, proms, and graduations for those who will forever remember 2020 in a very non-traditional way.
It is in this non-traditional light that Verus Financial Partners would like to proudly share with you OUR 2020 graduates.  You will notice an unfamiliar name in the list below, Alex Damm.  Alex will be joining our team on July 15, 2020.  We originally chose this date so Alex could travel to Germany and visit family members for the first time in years.  Like many of us, Alex didn't make it to Europe but we look forward to having him and will be delighted to introduce him to you in the coming months.
Our dream was to see each of these brilliant students walk across the stage and accept their diplomas, but in the spirit of "adapting", we now share with pride the GRADUATING CLASS OF 2020!
Alex Damm
Alex graduated from Virginia Tech with a Bachelor in Science in Business Finance, CFP® Certification Education this May and will be joining the Verus team in July.  While in school Alex volunteered at local elementary schools teaching financial concepts.  When not in class or volunteering Alex loves to rock climb and hopes to one day hike to the peak of Mount Fuji.  We are excited to have Alex on our team!
Ellie Chenault 
Eleanor Chenault, daughter of Dawn and Stan Chenault, will graduate in June from Atlee High School in Mechanicsville, Virginia.  Her activities in high school include wrestling team manager, Yearbook Club and Young Life.  She has also been involved in her church special needs ministries, Bridge Builders and Challenger Sports.  Forming relationships as a buddy has always been a passion of hers.  Eleanor will attend J. Sargeant Reynolds Community College this fall.
Jordan Waitman
Jordan Anne Waitman, daughter of Julie and Thomas Waitman, received her Masters in Business Administration from Liberty University. Jordan completed her degree a semester early while maintaining a full time position as a Quality Management Director, in the Autism Department, for Easterseals UCP.  She also is a Billing Specialist for Atlantic Autism Services, Inc.  Jordan resides in the Outer Banks of North Carolina where she enjoys outdoor activities with her beloved dogs, Sophie and Maya, and her fiancé Sam Hagen.
Amanda Harris 
Amanda Harris, daughter of Doug and Lisa Harris, graduated from Cosby High School in Midlothian, Virginia.  While in high school, she was a student leader at Cloverhill Church and an Assistant Teacher at Greenwood Country Day School.  Amanda enjoys spending time with friends, being the emcee for youth group, hosting events for her friends and making people laugh.  Amanda has completed classes at John Tyler Community College while in high school and plans to pursue the Guaranteed Admission Agreement to James Madison University or Virginia Tech as a Communications or Public Relations major.
Brenan McCaffery
Brenan McCaffrey, son of Rachel Meredith, will graduate on July 11, 2020 from Benedictine College Preparatory in Goochland, Virginia.  Brenan is a Senior Officer, earning his saber as 1st Lieutenant, B Company, 2nd Platoon. He earned his Varsity Letter as a basketball player and is a talented artist. In June 2019, Brenan had the great honor of representing his school and the United States while marching with his fellow cadets in commemorations held in Normandy, France for the 75th Anniversary of D-Day.
Jake Hoppe
Jake Hoppe, son of Ed and Lucky Hoppe, graduated from Atlee High School in Mechanicsville, Virginia.  He has been involved in many activities in high school including FIRST robotics, Atlee Academic Team, Beta Club, Computer Club, Young Life, and Boys State.  He received the Harvard Prize Book award, Academic Achievement Award and was selected as a Hanover Scholar.  He enjoys playing golf and anything technology related.  In the fall, he will be attending Baylor University, in Waco, Texas to study Computer Science.
Congratulations, graduates!
Verus Financial Partners