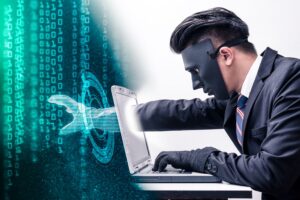 Protecting Your Identity
You are uniquely you, an individual with your own set of identifiers and a life worth living. Sometimes other people see how great you are and decide they want to be you too. With the global pandemic shifting a large portion of commerce, health care, and other services with personal identification to an online platform, identity theft cases have skyrocketed. We do everything in our power to keep your information safe and sound at Verus Financial Partners, but we know it is a team effort – you and Verus and all your other service providers.
What is Identity Theft?
Identity theft occurs when someone with bad intentions obtains your (or your spouse, kids, etc.) personal identifiable information (PII). They try to be you or create a new identity using these identifiers. If the information leads a trail to you, it can be classified as PII:
• Social Security number
• Birthday
• Driver's license
• Street or email address
• Mother's maiden name
• Fingerprints
• Debit/credit cards
An identity thief can strike anytime and anywhere in the world. Attacks are calculated and can be swift; effort and due diligence are necessary to keep information safe. Warning signs you may be the victim of identity theft:
• Notification that you filed more than one tax return.
• Charges on your credit cards or withdrawals you did not make appear on bank statements.
• Your credit requests are denied.
• Receipt of bills for services you did not receive.
• Disruption to your physical mail – items disappear, or unknown ones arrive.
• Debt collectors start calling you.
How to prevent identity theft?
Being proactive is the best way to avoid becoming a victim of identity theft. We do our part at Verus to protect your PII, but the world is ever-changing, and total risk avoidance is impossible.
We encourage you to practice staying SHARP.
Safeguard your information –
1. Shred old documents and statements. If you do not need it, do not leave it lying around your home, and please do not throw PII-ridden items in your trash. Verus is more than happy to help
shred your documents. Please feel free to bring items you would like shredded by our office at your convenience.
2. If retaining your documents, be sure they are safely stored out of plain sight, such as in a fireproof safe file cabinet or, if digital, a folder not readily accessible by users of your technology.
3. Do not store passwords, credit/debit cards, or other personal information on your technology. More importantly, do not leave your electronics unattended.
4. Monitor your mail by registering for informed delivery with the USPS. Each day the PostalService will email you a copy of the letters expected to arrive in your mailbox. Should anyone remove a credit card or other statements, you will know ahead of time if those documents fail to arrive in your physical mailbox.
5. Think twice before giving away your PII. Do you need that free cupcake coupon? Is the new credit card worth the 10% discount in the store you visit once every three years?
Home Wi-Fi is the place for the transfer of PII –
1. If it involves PII, you should not trust public Wi-Fi. It is perfectly fine to check the game's score or the latest news update on your device via the coffee shop's shared network, but more important things should wait.
2. Take advantage of your phone's password-protected hot spot for a more secure network or consider investing in a Virtual Private Network (VPN) service.
Always be skeptical –
1. Do not give away PII on the phone to individuals or organizations you did not directly call or for whom you cannot confirm their identity.
2. Never click on links directly embedded in your email – verify the sender email and head to the source's website for payments or verification of information.
3. The IRS will never call you; they will send a letter if something is awry.
4. When in doubt, vet it out – call us, contact your other providers, etc.
5. Never click on links within social media posts like Facebook, Instagram, etc.
Regularly monitor and review your credit –
1. Experian, Equifax, and Transunion provide a free annual credit report, but they will not remind you to pull this. Visit their sites to make sure you are in good standing.
2. You can freeze your credit if you want another level of protection. Contact those three credit agencies to have this done. If someone tries to use your credit, you will be notified. Note – a freeze is not advisable if you are in the process of purchasing anything that involves a line of credit, i.e., a home or car.
3. Consider an identity theft protection service such as LifeLock; sometimes, these services come as cheap additional coverage on other insurance policies.
4. Report immediately if you see something strange or unauthorized.
Protect your PII with robust passwords –
1. Strong passwords are a must! We highly recommend passwords that contain phrases, numbers, punctuation, and differing capitalization. Maybe choose your favorite verse from a song and changeup the letters.
2. Do not write your passwords in a notebook left near your computer or available to others. Consider a password management system to store them all in an encrypted format. A few examples:
RoboForm, Dashlane, NordPass, 1Password, and Norton.
3. As difficult as it may seem, do not use the same password for everything. Utilizing a password manager, as mentioned in #2, will help you increase the complexity and variability of passwords.
4. The more frequently you update your passwords, in most cases, the better. Pick a date that works for you. Perhaps start small and update when you change your clocks each year. Build yourself up to once a quarter or once a month.
What to do when it happens?
Sometimes a proactive stance is not enough to protect your identity. If the proactive stance does not work, or perhaps your third-party provider, such as an employer or Amazon, suffers a data breach, it is time to take the following steps to protect yourself. Per the advice of the Federal Trade Commission:
1. Immediately contact the companies where you notice the discrepancy.
2. Obtain your credit reports and place a fraud alert on your information.
3. Report the identity theft to the Federal Trade Commission (FTC).
4. You should also cover all your bases by filing a report with your local police department.
5. Contact Verus immediately. We will contact our custodians, Charles Schwab & Co., and TD Ameritrade, to be on high alert for fraudulent occurrences in your accounts.
How to move on, and how does it impact me?
Cleaning up an identity theft issue can be quite cumbersome, but here are some of the most critical steps for you to take moving forward:
– Change your logins and passwords.
– Request a one-year fraud alert at minimum, perhaps do an extended 7-year.
– Contact organizations that pulled your credit report in the last six months to ensure you authorized those reviews.
– Consider a criminal background check.
– See if you can identify where the bad actors obtained your PII and how to prevent it from happening again.
Your credit score may be negatively impacted by fraudulent activity. A few laws limit your liability, but ultimately, it pays to be attentive and quick to report the theft. With the help of the Fair Credit Billing Act, the maximum amount of liability for unauthorized credit card charges is $50. Unfortunately, debit or other bank cards are a bit more costly.
If you report a stolen card before any fraudulent charges, your risk has been dramatically reduced: Within two days, a $50 maximum; Within 2-60 days, a $500 max. According to the Act, your liability is unlimited after 60 days, so do not delay! You can always dispute the unauthorized charges, but early detection is key to avoiding ongoing costs and a more frustrating mitigation process.
Should you find yourself the victim of identity theft, please notify your financial institutions and us immediately. Stay SHARP!
As always, we are here to help so please contact us with any questions.
Sources:
Important Disclosure Information
Please remember that Verus Financial Partner, Inc. is not a professional information technology ("IT") company and should not be relied upon.  The advice in this newsletter is meant as general information and has been gathered from multiple sources as referenced.  While these are prudent guidelines to follow, they are not all-inclusive and may not capture the entirety of the necessary steps to protect your identity.  Verus conducts due diligence on their electronic vendors to the extent the information is available but makes no assurances regarding the security of their systems.  To the extent that a reader has any questions regarding the applicability of any specific issue discussed above to their situation, they are encouraged to consult with their chosen professional advisor.  Verus is neither a law firm nor a certified public accounting firm, and no portion of the newsletter content should be construed as legal, IT, or accounting advice.  A copy of Verus' current written disclosure Brochure discussing our advisory services and fees is available upon request. Please Note: If you are a Verus client, please remember to contact Verus in writing if there are any changes in your personal/financial situation or investment objectives to review/evaluate/revise our previous recommendations and services or if you would like to impose, add, or to modify any reasonable restrictions to our investment advisory services. Verus shall continue to rely on the accuracy of the information you have provided or at www.verusfp.com.  Please Note: IF you are a Verus client, Please advise us if you have not been receiving account statements (at least quarterly) from the account custodian.